Wallace Foundation Helps Fund Renovation to Increase Playground Accessibility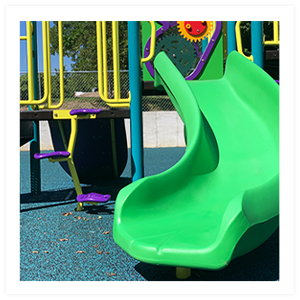 In 2019, the Dwane and Velma Wallace Foundation provided a $160,000 grant to Integrated Behavioral Technologies, Inc. (IBT) and its early learning and child care center, The KIDS Place (TKP). While IBT is located in Basehor, Kansas, the grant was dedicated to a playground renovation project at TKP, which is in nearby McLouth, Kansas, and also houses a center-based IBT autism clinic.
Completed in September 2020, the playground renovation project ensures playground usage by all children, including children who utilize devices for mobility and children with sensory-related deficits. Renovations included a new Americans with Disabilities Act (ADA)-approved DuraPlay surface, fencing around the two play areas, photocell-operated LED lighting and age-appropriate ADA-compliant play equipment and structures.
Recognizing the need for autism treatment services in rural Kansas areas, IBT was founded in 2002. Since then, IBT has established a statewide network of 75 clinical professionals working in urban and rural communities to provide equal access to effective learning environments for children of every socioeconomic status and disability status.
As IBT's network grew, so did the diversity of the services they offer. One such service came about when IBT acquired a learning center in McLouth, which was converted into TKP. Providing care for children ranging in age from two weeks to 12 years old, TKP strives to support children's social, emotional, physical and cognitive needs.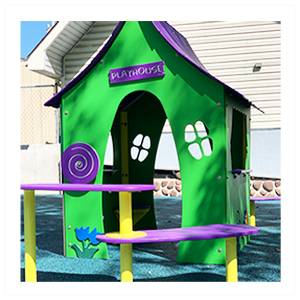 "The playground provides a place children can practice fine and gross motor skills, social skills with peers, language formation and a number of other important developmental skills," said Aaron Powell, the director of TKP. "Most importantly, it provides a safe place to play and be children."
The playground has new educational, imaginary and sensory equipment. The educational equipment includes a rock-climbing ramp, climbing bars, a tracing wall, a tunnel and tetherball. In addition, the new surfacing allows students to ride tricycles and other scooters. The imaginary equipment includes a car dashboard and steering wheel, as well as a playhouse with doors, windows and seating. The sensory equipment includes drums, bells and xylophones; spinners and gears; rockers; and slides.
"The playground renovation has been transformational. There is no comparison between the old one and the new one. We were at the point where the old one put our children at risk, while the new one promotes play, learning, problem-solving and physical health for all students who attend our center," said Linda S. Heitzman-Powell, the executive director of IBT. "There are no words to describe the impact the Wallace Foundation's support has had for our teachers, our children and our families. All I can say is 'Thank you!'"
ABCreative designed and installed the new playground, which included the supervision of a mobility impairment consultant.
To learn more about IBT and TKP, contact IBT at (913) 662-7071 or visit https://ibt-inc.org/.

More About the Wallace Foundation
Founded by Dwane and Velma Wallace in 1989, the Wallace Foundation's mission is to support a wide variety of tax-exempt, charitable organizations primarily in the Wichita, Kansas area, and secondarily in the state of Kansas, in the categories of arts and culture, education, community development and enhancement, social services and needs, and quality of life.
To find out more about contributions the Wallace Foundation has made, visit the Organizations We Fund page.